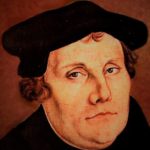 In an effort to prime the pump for those attending the 2017 Colloquy (or for those unable to attend, but drawn by the topic) we attach a bibliography – below.
A Simple Reformation Bibliography – Focus on Martin Luther
Take note, we start with revision "three" of this book list and may offer updates as we get closer to the gathering in July. Check back to see what is new!
All of the books in this bibliography can be ordered online from Hearts & Minds Books — www.heartsandmindsbooks.com .